Students & Graduates
Kick start your career
We are interested in young talented professionals who think with new theories and methodologies and who can do things smarter and more sustainable. We have different opportunities available for students and graduates to start an exciting career journey.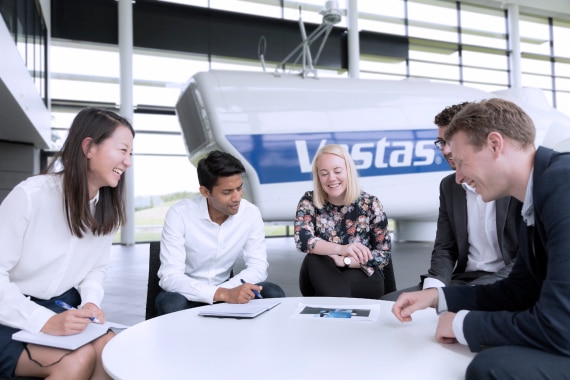 Student Jobs & Internship Positions
At Vestas we have dedicated and talented student jobs and internship positions. When working as a student worker at Vestas you will be employed in one of our business area where there are a broad-range of academic backgrounds and there we also welcome applicants with different backgrounds.
Becoming a student worker at Vestas is exciting because:
You will gain insight in to the sustainable energy industry
You will have the chance to experience working life in a global organisation
You will have the opportunity to exploit your theories and methodologies in a practical way
If you are interested in taking your first steps on your career path at Vestas, you are welcome to investigate our student jobs. Our student jobs will be advertised on our job section. You are always welcome to create a profile in our Vestas Career Community, and sign up for a job agent and receive an email when a position matching your criteria become available.
Graduate Programme
Our Graduate Programme is a 2-year international programme where you will have the opportunity to experience working on two different assignments with a progressive increase in challenge and responsibility. By joining the Graduate Programme and Vestas, you will be part of an ambitious, high-paced and goal-oriented culture with global career opportunities.
The Programme
The positions in the Vestas Graduate Programme are divided into four main tracks each containing two twelve-month assignments. The assignments are designed to develop a specific professional profile matching the long-term needs of competencies at Vestas and to give you as a graduate a clear line of sight for career development.
Information about the Graduate Programme?
Vestas Graduate Program is divided into 4 main tracks; Technology, Manufacturing/Procurement/Supply chain, Commercial & Finance and Business & Project Management. Each track consists of various positions spread across the globe. Here is some general information about the 4 main tracks..
Technology is the area where the future of sustainable energy solutions come to life. It's also the area where Vestas teams bring new ideas and improvements to existing technologies. In this track you will find an exciting position within Innovation & Concepts.
Manufacturing/Supply chain is a combined track of our Production area, Procurement, QSE (Quality, Safety, Environment) and Process Excellence functions. The aim of this track is to ensure a thorough understanding of the production environment and associated areas. Positions within functions such as Regional Procurement, Factory Supply Chain & Logistics together with Production Engineering will guarantee many interesting connections during the two year program.
The Commercial & Finance track is designed to cater for exposure within our global and regional finance, commercial or business functions. They are mainly found within our Finance, Sales, Service, Business Development and Project execution areas. Regardless of function or part of the world – finance, commercial or business focus is the red thread in this track. track is designed to cater for exposure within our global and regional commercial or business functions. They are mainly found within our Sales, Business Development, HR, Service and Project execution areas. Regardless of function or part of the world – commercial or business focus is the red thread in this track.
The Business & Project Management is a track of corporate function areas such as HR, Marketing, Global IT as well as Corporate Strategy. These graduate positions will act as business foundations and drive and/or support development initiatives across the company.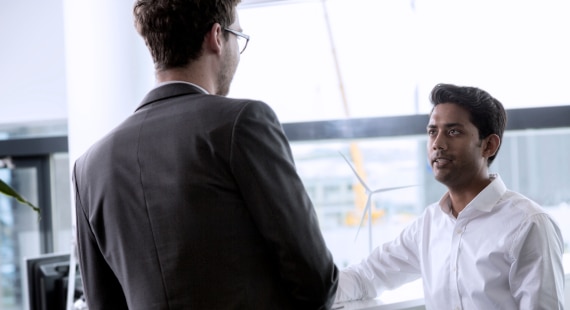 Your Graduate Career -
Training and Development
We recognize that as well as providing you a challenging and varied work environment, we must also provide a development package to match. In your graduate period, you will benefit from:

A comprehensive induction programme
A buddy assigned in your first period
Ongoing meetings with your manager
Mentor programme
Annual Graduate camp
Annual People Development Dialogue
Why join the
Graduate Programme?
By joining Vestas you will become part of a company that always strives to deliver best-in-class wind energy solutions and set the pace in the industry to the benefit of the customers and our planet. If we continue to do this every day, we will be the undisputed global wind leader.

An international 2-year programme with two yearlong assignments
Work in two different Vestas global locations
Full-time position with a strong focus on professional and personal development opportunities
An attractive compensation package
Emphasis on providing you with tools, support and knowledge to learn on the job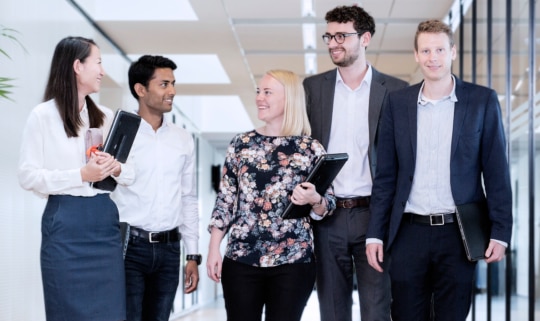 What
Graduate Profiles

are we looking for?

Our Graduate Programme is an important part of our strategy to seek out future business leaders, specialists and project managers. It is a perfect opportunity for gifted individuals who would like to embark on an exciting, global career at Vestas.

Education and Skills
Hold a relevant Master's degree (or are about to finish one)
Excellent IT skills
Minimum two spoken languages (English required) or English as mother tongue
Experience from living abroad (studying/working) and managing yourself in a new environment
Competencies
Holds a strong business acumen
Excellent analytical and communication skills
Live up to the Vestas values accountability, collaboration and simplicity which form the backbone for our culture
Behaviour
Global mindset – preferably experience from working hands-on with different cultures
Great networking capabilities – understand how to utilize your network for greater achievements
Solution-oriented – quick in establishing root cause of problems, even quicker in finding potential solutions
Goal-oriented - know what it takes to win and has the desire to pursue victory. Yet, show humbleness where appropriate
Show and use reflection and learning methods in order to continue to develop your skillset
The
Application Process
To ensure that the best candidate is identified, selected and hired, a comprehensive recruitment process will always take place. The graduate recruitment process is always carried out by the graduate manager in collaboration with Human Resources.

We kindly ask you to fill in the application form through the application links


You will be invited to fill out a extended application template together with short video interviews. The interviews will be reviewed by our experienced recruiters and based on their professional evaluation you will be informed on whether you will be invited for a first interview with the graduate manager


Minimum two spoken languages (English required) or English as mother tongue


Interview with the graduate manager. The interview can take place either on Skype or on location


Second interview or assessment day will be with the graduate manager and a recruiter. Prior to the interview/assessment day, you are asked to fill out different tests and prepare a short case.The interview will take around 2 hours


Decision – based on the interviews you will receive feedback on whether you have been accepted to the Vestas Graduate Programme
Applications
The Vestas Graduate Programme is now open for applications. We are currently recruiting for 26 different graduate positions on various locations globally.

Review our graduate positions here

We look forward to receiving your application to the Vestas Graduate Programme.
Application requirements: It is mandatory that you have work and residence permit in the country that you are applying for a graduate position.